Dmitri Chavkerov Discusses The Harmony of Money Managment

Forex Peace Army CEO Dmitri Chavkerov Advices Not to Underestimate the Power of Giving If One Wants to Maintain Harmony in Money Management
NORTH PORT, Fla., Sep. 16, 2013 /PRNewswire/ — Money management has long been one topic that garners much attention and interest amongst people from all walks of life. It is true that money management is crucial for gaining wealth and staying rich. However, some popular myths and wrong directions with regard to money management exist that makes money-making a difficult goal to achieve.
"One could say that the biggest secret to building a successful house is to lay proper foundation, because without it, the house won't stand. Foundation can be called the biggest secret of a house, because it's so crucially important and because it cannot be seen by our naked eyes. It's no different with building a successful forex trading career. The roof of such career is your trading strategy. The walls and floor are your money management and trading psychology," says Dmitri Chavkerov, President of Forex Peace Army, one of the most trusted sources in the world for learning how to trade forex news. Forex Peace Army comes out with latest, value-based methods that break the unwanted myths about investment, money management and forex trading.
Most number of people hold a wrong notion that saving money and becoming rich is all about just not spending any money and keep saving and investing each and every penny you have at hand, except the amount you take to meet your basic needs. According to Dmitri Chavkerov, it is difficult to become rich by creating disharmony.  Holding back money without spending on the right purposes creates stagnation, which in turn creates disharmony.
"After all, if you look all around us, the entire nature is one efficient system of taking, preserving, and giving back. Look at a tree…it first takes in nutrients and water from the Earth, it stores it in its trunk, and then uses the stored nutrients and water to grow leaves and bear fruit. Or a bear who eats as much as it can during summer, and uses all of its preserved fat during winter in order to survive. All of such things in nature program our subconscious mind to do the same: take, preserve, and give back, and if we don't do it, we live in disharmony with our own subconscious programming, and this disharmony makes it hard for us to succeed," says Dmitri Chavkerov.
According to Dmitri Chavkerov, tithing or giving 10% of your income to charity is the single and most important law of prosperity. Those who learn this law quickly and start practicing it will become wealthy very quickly. He says taking, preserving and giving away is the fundamental system based on which the entire world operates and if there is any sort of disruption in the cycle, it would lead to disharmony. This very same principle applies to money management as well.
Forex Peace Army not only provides valuable information as to how to trade forex but also touches upon interesting areas like principles and psychology of money management.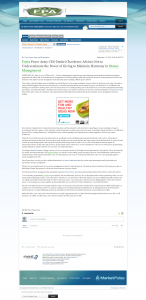 The best way to create harmony in your money management system is to start giving away. Giving away does not mean just throwing away money on futile things. Rather, the purpose is well served when the money is given as charity.
Investment and money management tips and guidance posted on Forex Peace Army have garnered appreciation from industry experts and authors.
"You are already programmed by nature to give regularly and unconditionally, and every day on this planet adds to that programming. When you see a nearly-perfect trading opportunity, your subconscious will tell you: "you don't deserve this trade, because you are one selfish and greedy bastard", and you will get scared and not enter the trade. Or when it's obviously a "buy", your subconscious will trick you into thinking that it's a "sell", and you'll lose money. Your program says to give regularly and unconditionally, but you don't do it. That is disharmony," says Dmitri Chavkerov.
One can work really hard and save enough wealth but when you do not give and synchronize with this basic system then it may affect health, family, or could show in some other form. There is no point in creating a lot of wealth and living in total disharmony. By setting aside a part of the income for charity purposes, one starts feeling peace, harmony and balance in life which in turn enables the person to accumulate more wealth.
Dmitri Chavkerov says, "Start with 10% and increase as you feel is appropriate, and your life will start becoming more harmonious every day. It will spread to your ability to make money, but it will also spread to all other areas of your life."
SOURCE: Forex Peace Army