Forex Peace Army | US Unemployment Trends Analysis for MarketWatch.com

July US Unemployment Figures Could Create More Volatile Than Usual Market Conditions, Says Dmitri Chavkerov, President of Forex Peace Army
NORTH PORT, Fla., Aug. 1, 2013 /PRNewswire/ — When the July unemployment figures are released this Friday by the Bureau of Labor Statistics, traders in the Forex markets could see more volatile than usual market conditions, together with unconventional opportunities for profits, especially due to seasonal factors.
This Friday, August 2, 2013, at 8:30 a.m., U.S. Non-Farm employment report is coming out, which is anticipated to create much turbulence in all financial markets, such as Forex, futures, stocks and commodities.  The employment number is expected to read 184,000 versus June's number of 195,000.
The US ADP Employment report was released on Wednesday, July 31, at 8:15 a.m. EDT.  It posted a reading of 200,000, which was 20,000 more than the expected number of 180,000.
"The ADP Employment report is always released two days before the highly anticipated US Non-Farm Employment report, and sometimes acts as a harbinger of what's to come on Friday, but it rarely accurately predicts what's to come from its big brother on Friday," said Dmitri Chavkerov, President of Forex Peace Army, one of the largest websites for providing educational materials for Forex traders.
"Any movement in unemployment trends can cause the markets to move. We provide our clients with the latest insights on how to profit from those numbers," says Chavkerov. "These absolutely free with no strings attached daily news trading signals are what made the Forex Peace Army famous, simply because they are very simple and can be very profitable."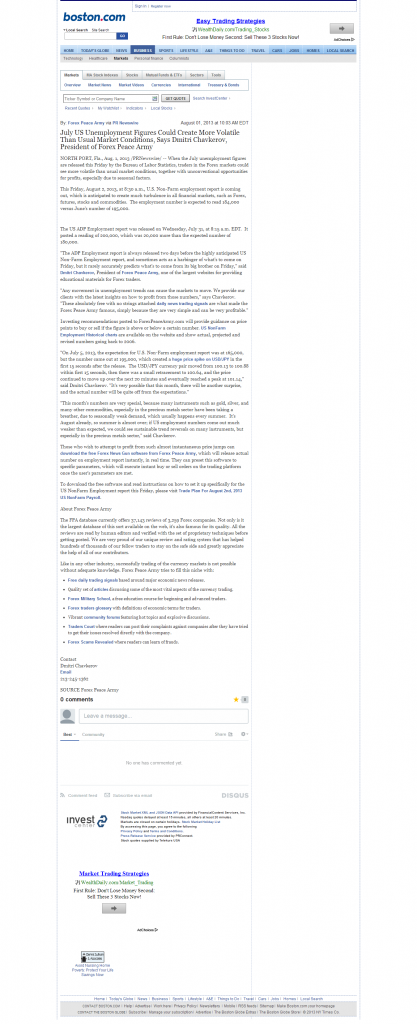 Investing recommendations posted to ForexPeaceArmy.com will provide guidance on price points to buy or sell if the figure is above or below a certain number. US NonFarm Employment Historical charts are available on the website and show actual, projected and revised numbers going back to 2006.
"On July 5, 2013, the expectation for U.S. Non-Farm employment report was at 165,000, but the number came out at 195,000, which created a huge price spike on USD/JPY in the first 15 seconds after the release.  The USD/JPY currency pair moved from 100.13 to 100.88 within first 15 seconds, then there was a small retracement to 100.64, and the price continued to move up over the next 20 minutes and eventually reached a peak at 101.14," said Dmitri Chavkerov. "It's very possible that this month, there will be another surprise, and the actual number will be quite off from the expectations."
"This month's numbers are very special, because many instruments such as gold, silver, and many other commodities, especially in the precious metals sector have been taking a breather, due to seasonally weak demand, which usually happens every summer.  It's August already, so summer is almost over; if US employment numbers come out much weaker than expected, we could see sustainable trend reversals on many instruments, but especially in the precious metals sector," said Chavkerov.
Those who wish to attempt to profit from such almost instantaneous price jumps can download the free Forex News Gun software from Forex Peace Army, which will release actual number on employment report instantly, in real time. They can preset this software to specific parameters, which will execute instant buy or sell orders on the trading platform once the user's parameters are met.
To download the free software and read instructions on how to set it up specifically for the US NonFarm Employment report this Friday, please visit Trade Plan For August 2nd, 2013 US NonFarm Payroll.
About Forex Peace Army
The FPA database currently offers 37,143 reviews of 3,259 Forex companies. Not only is it the largest database of this sort available on the web, it's also famous for its quality. All the reviews are read by human editors and verified with the set of proprietary techniques before getting posted. We are very proud of our unique review and rating system that has helped hundreds of thousands of our fellow traders to stay on the safe side and greatly appreciate the help of all of our contributors.
Like in any other industry, successfully trading of the currency markets is not possible without adequate knowledge. Forex Peace Army tries to fill this niche with:
Free daily trading signals based around major economic news releases.
Quality set of articles discussing some of the most vital aspects of the currency trading.
Forex Military School, a free education course for beginning and advanced traders.
Forex traders glossary with definitions of economic terms for traders.
Vibrant community forums featuring hot topics and explosive discussions.
Traders Court where readers can post their complaints against companies after they have tried to get their issues resolved directly with the company.
Forex Scams Revealed where readers can learn of frauds.
SOURCE Forex Peace Army